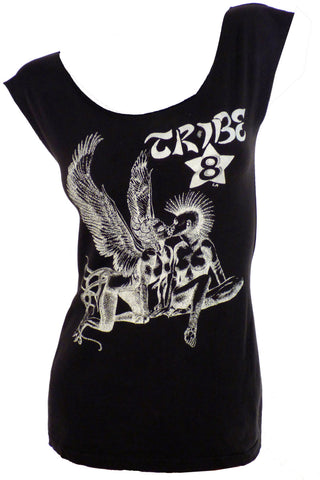 Sold Out
Vintage Riot Grrl Tribe 8 restyled rock T-Shirt / Dress sz. S/M
$36.00 USD
This product is unavailable
Cool vintage worn soft cotton "Tribe 8" rock tee. Restyled by Hollywood Babylon.
This would be great worn a multitude of ways including layered over leggings.
We only have one, so get it or regret it!
Please note: the original tshirt we modified here is a vintage tee - it is soft and there it a hole in front just to the left of the "i" in Tribe. We think it looks that much cooler this way, but wanted to note that.
Measurements:
Underarm seam to Underarm seam: 15 inches
Waist: 14 inches
Hips: 18 inches
Top of shoulder to bottom of shirt: 26.5 inches
Size Guide
Have a question? Don't see what you're looking for? Email Us